Let Heavner's Water Trail Paddle Guide help as you plan to take one of our Downriver Trips. Here is one of our many
Google Earth Video Maps
with embedded footage of pickup sites, turns, and portages. For videos and
GPS Pick Up Points (powered by Google Maps)
of all our pick up point locations, go to our
Maps Page.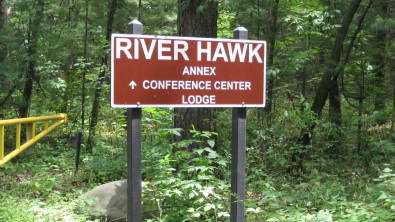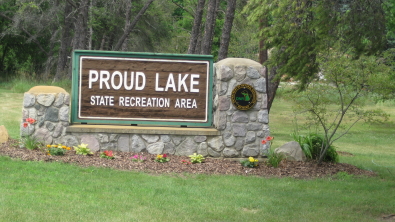 Welcome to The River Hawk Lodge and Conference Center!
Proud Lake Recreation Area offers visitors the unmatched serenity of the scenic Huron River, which is a designated Trout Stream.
The River Hawk Complex serves as a functional, comfortable modern base for a wide variety of recreational pursuits. This includes hunting, over 20 miles of hiking trails (including a primeval stand of Beech trees), fishing, canoeing and kayaking, educational programs and meeting facilities. The River Hawk Complex is conveniently located just 6 miles from I-96.
For more information contact the Proud Lake Recreation Area at (248) 685-2433.
Please see below for additional descriptions and pictures of each facility.
The Lodge
The River Hawk Lodge is an overnight facility which features fourteen sleeping rooms in a two wing configuration. A community room with a wood burning fireplace separates the two wings. Adjacent to the community room is a kitchen with sink, refrigerator, stove/oven, microwaves, toaster and coffee pot. This 24 person lodge costs $250 for the first night, $200 each additional night.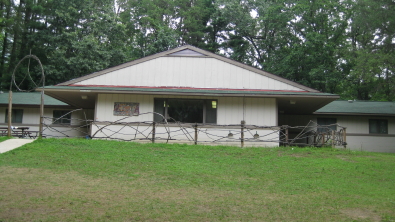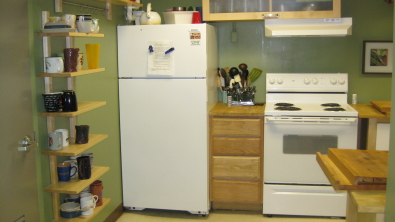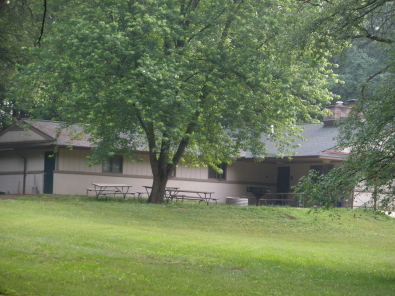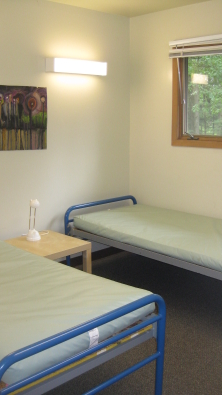 The Conference Center
The River Hawk Conference Center offers a large open room (50'x 50′) with a 20′ ceiling. A loft that looks out onto the main rooms is accessed by a stairway. The Conference Center can meet many needs. There are two restrooms, a utility/wet bar sink in the main room, refrigerator, coffee pots, projector screen, easel, tables chairs, table top podium and a fireplace. The building offers ample room for moderately active events also. The Conference Center costs $350 on weekends and $250 on weekdays with $50 off of the original price each additional day.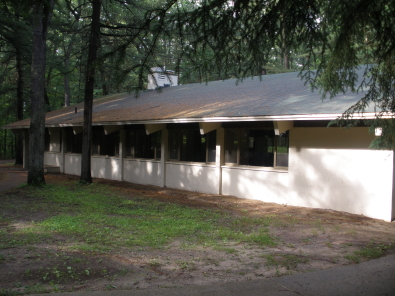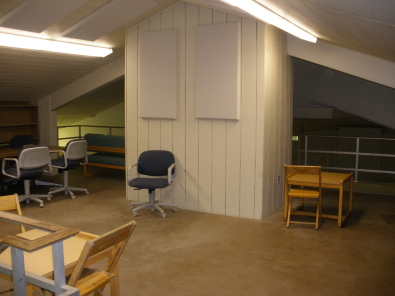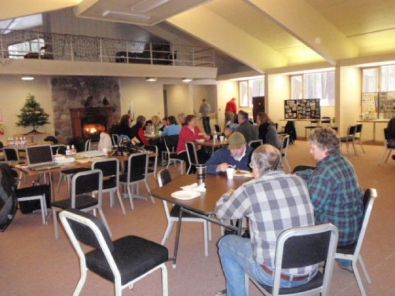 The Camping Cabin
If you've ever wanted to try camping, but didn't want to invest in a lot of expensive equipment, the Camper Cabins may be your answer. These 400-square foot cabins are situated on a scenic lot overlooking the river within walking distance of a picnic shelter. The camper cabins sleep up to six people with two sets of bunk beds in their own rooms and a futon in the main living area. The cabins offer electrical outlets, a microwave, a small fridge and shelves for food and supplies. Campers must supply their own bedding, dishes and cookware. The price is $80/night with a two night minimum on weekends.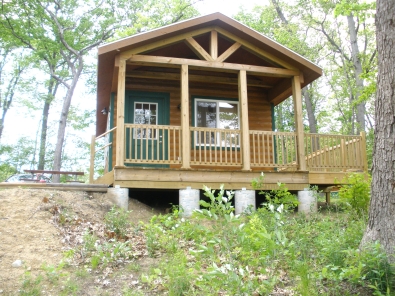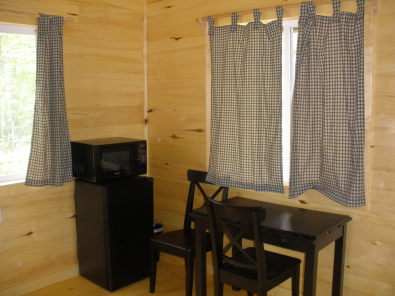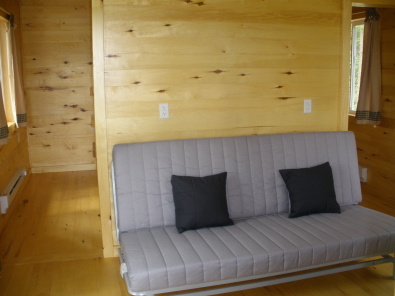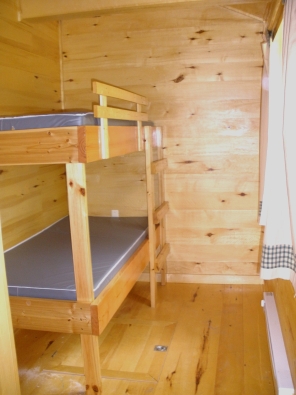 The Cafe
The River Hawk Cafe is unique in that it is designed specifically for preparing meals for a large group. With big stoves, a dishwashing room, full size freezer, full size refrigerator and other kitchen supplies, almost any meal is possible in this stainless steel kitchen. The countertop, glass front refrigerator and serving line-style set up make this kitchen great for serving many people quickly. The Cafe rents for $200 per day.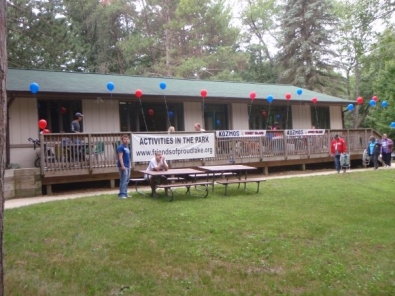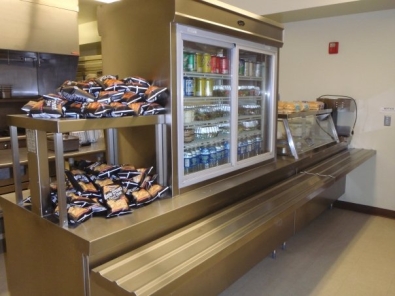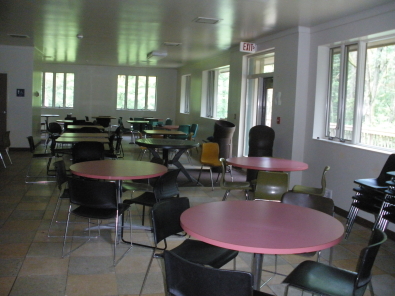 The Annex
The River Hawk Annex is bordered by hiking trails and a pine forest. The main room of the building is approximately 40′ x 40′. There are doors at the north and south ends making it a perfect pass through registration building as well as a large classroom or meeting room. Windows on the east and west walls showcase the beautiful forest, as well as a bird viewing room, looking out on many bird feeders and the marsh. The Annex rents for $125 per day.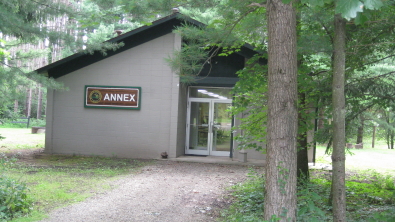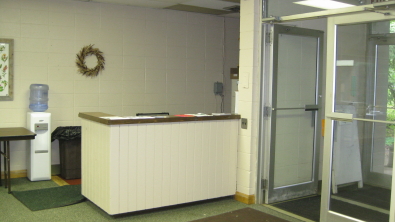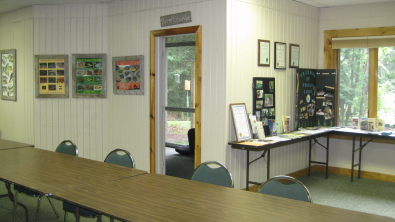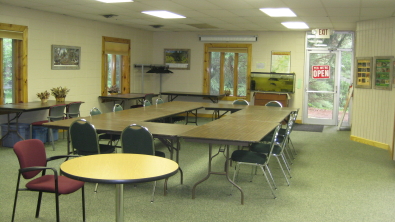 Combo Prices
While in close proximity to the other River Hawk buildings many guests find it favorable to rent more than one building at a time.
Combination prices are available; please call the park office (248-685-2433) for more information.