~Be surrounded by autumn trees showcasing their vibrant red, yellow, orange, and magenta leaves. Hear the water as the paddle runs through it and the laughter of those caught in the moment. Glide through the calm water. See the turtle scurry off the log and the heron fly overhead. Experience joy and tranquility in the great outdoors. ~
Heavner Canoe & Kayak Rental
E

stablished in 1953 – o

ver 65 years of Outdoor Adventure ~
We Believe in "No Child Left Inside" (Regardless of Age)
Come check out our Fall Colors special by clicking the picture: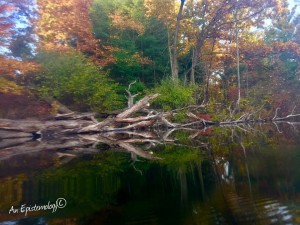 Let Heavner's Water Trail Paddle Guide help as you plan to take one of our Downriver Trips. Here is one of our many

Google Earth Video Maps

with embedded footage of pickup sites, turns, and portages. For videos and

GPS Pick Up Points (powered by Google Maps)

of all our pick up point locations, go to our

Maps Page.
Experience wilderness paddling close to home. Launching from one of our four locations in Southeast Michigan, meander on the water through quaint towns and in beautiful state recreation areas, city parks and metroparks – stopping to hike, swim, picnic, fish, camp, and walk through town along the way.

  Join us for our special events, and 

make sure to try a sunset and moonlight paddle to appreciate the river in a whole new way.

 
We strive to make great memories for the lone paddler to the large school, church, scout, community, and corporate groups. There are a multitude of trips, which range from a one-hour, self-return paddle to a multi-day downriver journey with transportation back to the canoe rental. Customized group packages can include paddling instruction, catered meals, nature and river guide services, and recreational, team building, and educational activities both on and off the water.

 
Reserve

your experience today!

 
2775 Garden Road, Milford, Michigan 48381
Phone: (248) 685-2379 Fax: (248) 684-7939
Email: AlanHeavner@heavnercanoe.com